RACE-INSPIRED ACCELERATION AND STABILITY FOR THE WIN
The revolutionary new and lighter platform, combined with the Ergolock System, maximizes control in any condition, making the RXT-X the new benchmark for rough water performance. With the 300-hp engine, 96 km/h is just a few seconds away.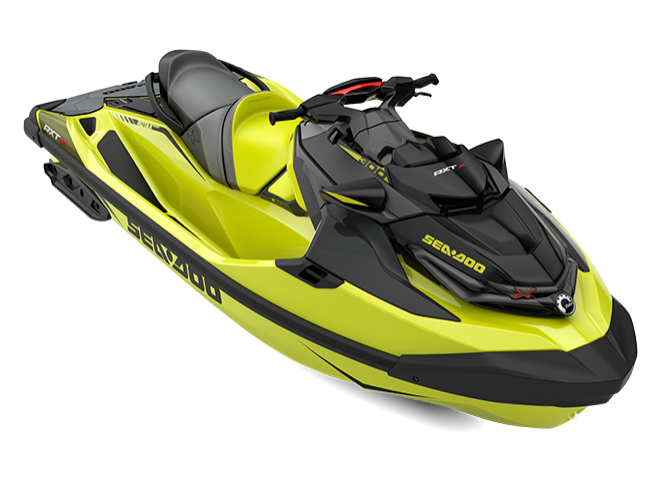 Neon Yellow and Lava Grey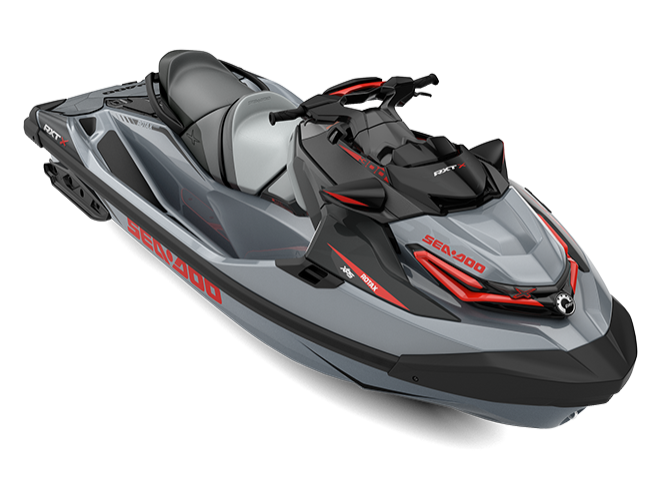 LARGE SWIM PLATFORM AN INDUSTRY FIRST
The first watercraft to hang out on the water with the largest swim platform in the industry. Flat, stable and comfortable, it is ideal for re-boarding, lounging, and prepping for tow sports. Create even more space by removing the rear seat.
REVOLUTIONARY STABILITY WITH THE ST³ HULL
Whether you're at high speeds pounding rough offshore waters, at rest hanging out in a cove or you're simply boarding from the side, the wider hull offers industry leading stability thanks to a lower center of gravity and improved hull design.
ERGOLOCK MODULAR SEAT
The narrow racing seat places your knees closer together to hold on tighter while improving the transition into standup riding. Plus, the removable rear seat gives you even more space for hanging out on the rear platform, sunbathing or a face-to-face picnic.
DIRECT ACCESS FRONT STORAGE
All your gear is now within arm's reach. The first direct-access front storage opens by simply raising the handlebar assembly. No standing required. It's the smartest water-resistant storage ever built into a watercraft, offering room for your next adventure.
REAR CARGO LINQ SYSTEM
Extra rear storage is now possible with the secure Quick-Attach LinQ System. It allows to easily snap a fuel caddy and a bag, or a cooler, to the back of your watercraft using two convenient, integrated attachment points.
BLUETOOTH AUDIO SYSTEM
The industry's first fully-integrated waterproof Audio System will keep the fun going anywhere you go, with 100 watts of total system power, fully-waterproof performance, Bluetooth connectivity, and external playback controls to ensure the perfect song is always on deck.
WATERTIGHT PHONE BOX
A watertight compartment with integrated USB port* allowing your devices, including phones or action cameras, to stay charged and ready to go—snug in an impact-absorbing, watertight cradle. (*standard only on Limited models)
INTELLIGENT BRAKE & REVERSE
Allows you to stop up to 160 feet (48 m)* sooner than watercraft not using a brake. Riders can engage forward, neutral, and reverse for stable, worry-free maneuvering at low speeds.
INTELLIGENT THROTTLE CONTROL
Choose how you want your power delivered thanks to different riding modes such as Touring, Sport, and ECO – available through your watercraft digital information center.
X PACKAGE
Add on the performance package. With X-Sponsons for cornering stability and an innovative ErgoLock System featuring a narrow racing seat, specially angled footwell wedges and adjustable X-steering.
ROTAX 1630 ACE ENGINE
The most powerful engine on a Sea-Doo, ever! Supercharged with an external intercooler, the Advanced Combustion Efficiency (ACE) technology delivers high efficiency and amazing acceleration. This is the most powerful engine on a Sea-Doo producing a thrilling 300-hp.
VTS SYSTEM
Quickly access the Variable Trim System (VTS) on the handlebar for fine-tuned handling based on rider preference, water conditions, and number of passengers. Plus a handlebar-activated launch control to provide perfectly controlled acceleration.