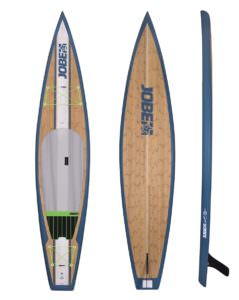 Angara 12.6
€1,895.95
The Angara 12.6 has it all! Superfast and supersmooth, this SUP will bring you to places never seen before. Two bungee cords make that you can bring everything you need on your journey: the ultimate freedom. Don't forget to mount your camera in the special plug on front to capture the moment. This bamboo-beauty has a length of 12'6″ making her tall and slim and the fastest board out there.Yet a 12" inch single fin gives you the control you need while touring around. An ergonomic handle makes carrying the lighweight board even easier. Little extra: get a SUP leash straight 10 ft green and a railsaver, too.
Description
Length: 12'6″ (3.8m)
Width: 29" (73.6cm)
Thickness: 5,5″ (14cm)
Volume: 210L
Board weight: 28, 44LBS (12,9kg).